Família Camping will open its gates to the camping community, 700 m from the Balatonőszöd free beach, in 2022
Balatonőszöd is located in Somogy county, on the southern shore of Lake Balaton, between Balatonszárszó and Balatonszemes. The simplest way to reach us is via the public highway network, as Balatonőszöd is accessible from the 70 main road, and the M7 motorway.
The settlement has an almost two-kilometre-long Balaton beach section. The settlement's only free beach, the eight hectare wooded 'Ligetes' beach is easily accessible via Tündér street.
The wooded areas of the beach emphasise the opportunity for quiet relaxation, as a result, news of the beach has spread far and wide in large family circles. The slowly-deepening water means that the water at the beach is ideal for small children to paddle in. Additionally, they can enjoy themselves at the modern playground when they've finished splashing about.
Pedalos are available for rent, and for sports enthusiasts there are chess tables, a table tennis table, a water-borne basketball court, beach volleyball courts, as well as a beach football pitch. The wooded beach area now boasts modernised toilets, changing rooms, and showers. Additionally, visitors can allow themselves to be tempted by the selection of food and drink at the beach buffet.
The campsite is newly-built in a quiet area. It is located on an area of 7,000 m2.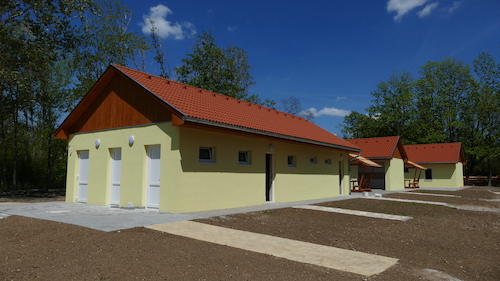 The campsite has space for 50 caravans on individual pitches supplied with electricity. Additionally we can provide pitches for tents.
The campsite features a separate water block, complete with modern male and female showers with hot and cold running water, and separate toilets. Cooking facilities, covered outdoor areas, barbecue/firepit area. Washing facilities.
As an additional service, we provide free WIFI access to all of our guests.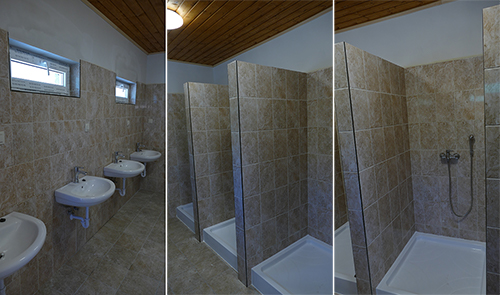 Dogs and other pets are allowed on the premises of the campsite.
For guests who enjoy walking, there are countless beautiful sights and hiking trails to be found in the area around the campsite.
The bicycle path which runs around Lake Balaton passes very close to the camp site.
We're open to guests from 15 April until 30 September.
The Famíila Camping Team
Map of the campsite